The North West
A calm evening on Inishmean, Lough Melvin, Co.Leitrim
Demo Kayak
We have a Valley Gemini SP in polyethelene for you to try. Email if you're interested.
A super time with the Killiney dolphins!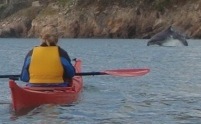 Orlaith Doheny with jumping dolphin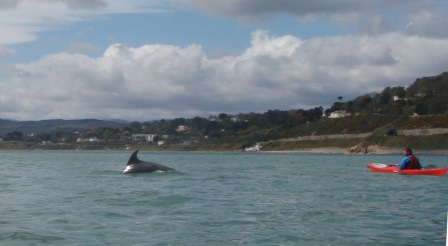 Welcome to Deep Blue Kayaking
We offer...
Sea kayaking courses for all levels from beginner, introductory level to advanced, mainly on the north west coast of Ireland.
Hand crafted Greenland paddles in cedar and ash, plain or laminated to your specification.
A well-stocked shop with a range of sea kayaks, paddles, gear and equipment.
A repair service for fibreglass and plastic sea kayaks
Discover sea kayaking...
The introductory Discover Sea Kayaking sessions introduce you to sea kayaking and enjoy an adventure on the water. Learning a new skill in a very dynamic environment makes sure you're focused entirely on the present. Leave your cares and worries on the shore during your 3 hour paddle.
Greenland paddling & rolling...
We're delighted to have Cheri Perry & Turner Wilson sharing their super coaching advice this August 21st-23rd in Mullaghmore. Some commentary and photos from last years session thanks to Greg Miller are here.
Full details are here.
Cheri Perry, Turner Wilson, Sonja Ewen, Des Keaney
Dublin Sea Kayaking
While we are delighted to now be in lovely North Leitrim, we're going to miss all our Dublin customers with whom we enjoyed so many happy and challenging days. Unfortunately, our space in Dun Laoghaire Harbour was needed for the cruise ship programme and, as we were unable to find anywhere else suitable, we're not running courses in Dublin at the moment..
If any of you want to continue sea kayaking in the capital, we'd recommend www.ShearwaterSeaKayaking.ie in Howth who, as far as we know, are the only company regularly operating in the Dublin area who are qualified to lead on open water.
What you get on Deep Blue courses...
Fully qualified Level 3 & Level 4 Sea Instructors. As well as being fully qualified, all our instructors are highly experienced and enjoy passing on the wonders of sea kayaking to our students. For full info on qualifications, have a look

here

.

No more that 4 students per instructor/assistant on open water.

We fully comply with all Irish Canoe Union Guidelines.

Expedition sea kayaks and paddles.
Dublin sunset
Returning from Dalkey at sunset.
Our courses...
Discover Sea Kayaking
- These sessions will get you started. We'll bring you out to visit historic Dalkey Island and to see the seals and birdlife. Full details
here
.
Discovery Two & Three - If you've done the Discover Sea Kayaking and want to get your skills up to Introductory level, this is for you.
Full Introductory Course - The three Discovery sessions make up the Introductory Course. Pick whatever sessions suit you throughout the year.
Improver
- If you've paddled before or done the Introductory Course and want to improve your skills as quickly as you can, this is for you. Full details
here
.
Expeditions
- Weekend expeditions to some of the amazing places of the Irish coast. Connemara, Mayo, Sligo, Leitrim and Donegal, we've had some amazing trips. Full details
here
.
Irish Canoe Union Skills Courses - We do a full range of ICU training courses from Level 3 to Level 5.
Vouchers are available for any amount. You can pay over the phone or by PayPal and we can post or email, whichever suits you best.