The North West
A calm evening on Inishmean, Lough Melvin, Co.Leitrim
New Demo Kayak
We're delighted to have a Valley Gemini SP in polyethelene for you to try. Email if you're interested.
A super time with the Killiney dolphins!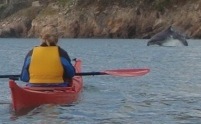 Orlaith Doheny with jumping dolphin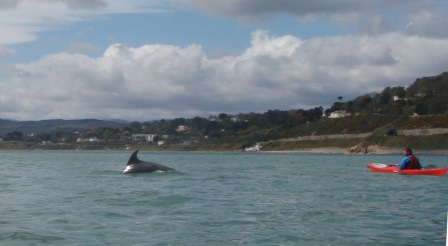 12th April - New school boats for the weekend... a North Shore Atlantic LV, a Valley Aquanaut Club, a Wilderness Systems Tempest 170, a North Shore Aspect and a Wilderness Systems Tsunami 145. We're looking forward to trying them out.
Some second hand plastics will be coming available soon.
2nd April - A fantastic weekend. Out to and around Inishmurray on Saturday in glorious weather. Surfing in Strandhill on Sunday with wet heads all around. A brilliant meal from master chef Rory Redmond.
Welcome to Deep Blue Kayaking
We offer...
Sea kayaking courses for all levels from beginner, introductory level to advanced, mainly on the East Coast (Dublin area) of Ireland.
A well-stocked shop with a full range of sea kayaks, paddles, gear and equipment.
A repair service for fibreglass and plastic sea kayaks
Discover sea kayaking...
The introductory Discover Sea Kayaking sessions are running from our base in Dun Laoghaire. See Dublin Bay from a completely different viewpoint and enjoy an adventure on the water. Learning a new skill in a very dynamic environment makes sure you're focused entirely on the present. Leave your cares and worries on the shore during your 3 hour paddle.
Improvers...
For Improvers, as well as our Dublin sessions, we will be visiting the islands of Inishkea's and Inishmurray and paddling the spectacular Slieve League cliffs during the summer months.
Greenland paddling & rolling...
We had a fun weekend in Mullaghmore with Cheri Perry & Turner Wilson. Some nice commentary and photos thanks to Greg Miller are here.
Next weekend it's to Dublin. Full details are here.
Cheri Perry, Turner Wilson, Sonja Ewen, Des Keaney
What you get on Deep Blue courses...
Fully qualified Level 3 & Level 4 Sea Instructors. As well as being fully qualified, all our instructors are highly experienced and enjoy passing on the wonders of sea kayaking to our students. For full info on qualifications, have a look here.
No more that 4 students per instructor/assistant on open water.
We fully comply with all Irish Canoe Union Guidelines.
Expedition sea kayaks and paddles.
Dublin sunset
Returning from Dalkey at sunset.
Vouchers...
Like to give something special? We offer vouchers for any amount. For example, a Discover Sea Kayaking session costs as little as €45. They'll really have something to look forward to.
It's easy. Call us with card details or use PayPal and we'll either email or post you the voucher.
Discover Sea Kayaking
- These sessions will get you started. We'll bring you out to visit historic Dalkey Island and to see the seals and birdlife. Full details
here
.
Discovery Two & Three - If you've done the Discover Sea Kayaking and want to get your skills up to Introductory level, this is for you.
Full Introductory Course - The three Discovery sessions make up the Introductory Course. Pick whatever sessions suit you throughout the year.
Improver
- If you've paddled before or done the Introductory Course and want to improve your skills as quickly as you can, this is for you. Full details
here
.
Expeditions
- Weekend expeditions to some of the amazing places of the Irish coast. Connemara, Mayo, Sligo, Leitrim and Donegal, we've had some amazing trips. Full details
here
.
Irish Canoe Union Skills Courses - We do a full range of ICU training courses from Level 3 to Level 5.
Vouchers are available for any amount. You can pay over the phone or by PayPal and we can post or email, whichever suits you best.
We'd like to help all you aspiring Adventure Racers out there. It's possible to lose a serious amount of time and blow a lot of energy even over the relatively short kayak section. We can help you paddle this part of the race efficiently and quickly.
On our Discover Sea Kayaking sessions, we never have more than 4 students per instructor so there's plenty of time for individual instruction and feedback. Just let us know your interest and we'll concentrate on developing your skills over the morning.