The North West
A calm evening on Inishmean, Lough Melvin, Co.Leitrim
A super time with the Killiney dolphins!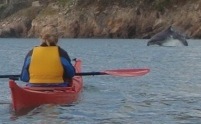 Orlaith Doheny with jumping dolphin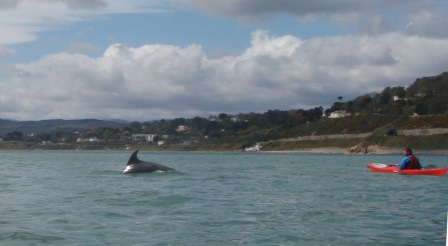 Welcome to Deep Blue Kayaking
We offer...
Hand crafted Greenland paddles in cedar and ash, plain or laminated to your specification.

We sell Sea Kayaking UK, Valley, Winner and Wilderness Systems kayaks and have a selection of paddles, gear and equipment for sale.
A repair service for fibreglass and plastic sea kayaks, We're experts in skeg repairs!
Greenland paddling & rolling...
We're delighted to have had Cheri Perry & Turner Wilson back in 2016, sharing their super coaching advice this June 17th, 18th & 19th in Mullaghmore, Co.Sligo. Some commentary and photos from previous sessions thanks to Greg Miller are here.
Click here if you'd like more info or to book.
up
Dublin Sea Kayaking
While we are delighted to now be in lovely North Leitrim, we're going to miss all our Dublin customers with whom we enjoyed so many happy and challenging days. Unfortunately, our space in Dun Laoghaire Harbour was needed for the cruise ship programme and, as we were unable to find anywhere else suitable, we're not running courses at the moment..
If any of you want to continue sea kayaking in the capital, we'd recommend www.ShearwaterSeaKayaking.ie in Howth who, as far as we know, are the only company regularly operating in the Dublin area who are qualified to lead on open water.
If you're going to sea, do make sure you're with qualified instructors. Only properly qualified SEA kayaking instructors can take you out on the open ocean. More info here.
Be safe and enjoy. Where the land meets the sea is a wonderful environment.
Dublin sunset
Returning from Dalkey at sunset.